The Blackbaud/Convio deal is not done (and in fact has been delayed for a third time), but it has sparked an increasingly heated debate about what the post Blackvio/ConBaud world will look like. The easy answer is less choice, less innovation, and higher costs. Based on previous Blackbaud acquisitions, those are good bets.
What is harder to answer is the question of what is driving Blackbaud to make this very expensive acquisition which will saddle them with over $300 million in debt. Taking out a competitor; buying revenue (especially Convio's valuable subscription revenue); and obtaining clients they couldn't win with their existing products are all good possibilities and certainly have factored into past acquisition decisions.
But I think there is something deeper going on. Blackbaud is a believer in the Best of Vendor business model which says that clients should buy all of their "solutions" from one company. The theory is that clients benefit from the vendor's ability to integrate multiple functions into one comprehensive suite. It also provides clients with "one throat to choke" which is a troubling image yet somehow comforting to many nonprofit executives.
The problem is the Best of Vendor model has utterly failed to deliver on innovation, integration, and usability. Ask Raiser's Edge clients what they thought of the release of version 7.92, a release that actually said this was the "new" version. The headline on that press release should have been "Why Haven't We Given You RE8? Because We Don't Have To." As for integration ask anyone with multiple modules how "easy" it is to get data back and forth between them.
Turns out the throat that gets choked when you buy into the Best of Vendor pitch is the clients. They face ever increasing costs for upgrades, new modules, training, implementations, conversions, hosting, API's, etc. etc. etc. For evidence look no further than Blackbaud's recent crediting of $3.4 million to 4 early adopters of its vaunted eCRM.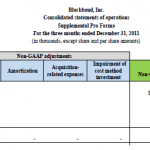 I put forward that the primary reason Blackbaud is buying Convio is that Convio was  starting to enjoy some success getting organizations on Salesforce. Salesforce is all about the Best of Breed world, a trend Blackbaud must fight at all costs. With Best of Breed you are able to select the applications you need and integrate them on a common platform. Rather than one throat to choke, you have vendors working full-throttle on particular aspects of your mission. If one of them doesn't live up to your expectations you can simply select another. This keeps pressure where it should be, on the vendor to innovate, deliver what they promise, and keep prices in check.
Another reason Blackbaud wants Convio out of the picture is that Convio was starting to be seen as a viable competitor. Their acquisition of StrategicOne, and their combination of Common Ground with their online communications platform under the Luminate brand, made them look a little too much like Blackbaud's Infinity suite. It has never been a secret that Convio wanted to be Blackbaud when it grew up, so the folks in Charleston decided it was smarter to take them out now rather than risk being unable to buy them later.
Some are asking what Blackbaud will do with Convio's Common Ground. Bury it in a deep dark hole is the most likely answer. Why? Because they can't afford to let their clients on the Salesforce platform where there will be applications that compete with theirs. Do you really think that Marc Chardon is going to allow clients to process donations with someone else? Not when he is collecting 5% on top of credit card fees. How about screening and analytics? WealthEngine is on Salesforce and would love to have all of Blackbaud's clients easily accessible.
And what is even more threatening to Blackbaud is that on Salesforce there are applications like Affinaquest, a donor management system built by Jeff Shy who created Sage Millennium. That means there are viable alternatives to the very core of what Blackbaud offers. As a member of the Board of Affinaquest I can tell you first-hand that organizations are already saying no to Blackbaud's out-of-date closed software systems, and yes to a future of more choice and lower costs.
Given the latest delay in the acquisition process we have time to think some more about the future. I am optimistic that what we are witnessing is the beginning of the end of the Best of Vendor age, and the start of the Best of Breed era for nonprofits. There will be many struggles ahead as there always are in times of change, but change is coming and no amount of acquisitions can stop it.