Next year will be the 30th anniversary of Marts & Lundy introducing the fundraising world to automated prospect screening. Their Electronic Screening® service, programmed by my old friend Charles Headley, changed forever how organizations found their best prospects.
The goal was simple: find people in your database who have the capacity to give more than they are now, and the propensity to make a gift. You would think the reaction to this was universally positive. After all, the classic peer review sessions were breaking down under the weight of the volume of people, and the growing diversity of wealth.
But it turned out the first thing people wanted to see was their current top prospects. If they were not at the top then it must not work. This is a challenge screening companies have faced ever since.
Grenzebach Glier came along and solved the problem by heavily weighting past giving as the measure of affinity. Voila! Your current best donors were your future best donors. This started a debate which rages to this day: should you mix affinity, propensity, and capacity into a single score or should you create separate scores?
As you may have surmised from the title of this post I am a believer in love for a nonprofit's mission (affinity), how philanthropic one might be (propensity), and how much one has to give away (capacity) being analyzed as separate elements. I will use one of my favorite beverages to explain:
– You can love or hate Starbucks.
– You can love or hate coffee.
– You can afford Starbucks or not.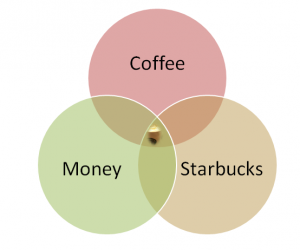 For the good folks in Seattle their best customers have the propensity for coffee, the capacity for expensive coffee, and an affinity for Starbucks. They know there are plenty of people who love to have their tasty concoctions but can't afford FiveBucks. They also know there are people who think their coffee is too acidic and enjoy Dunkin their Donuts. Finally they also know there are people who can't stand the smell of coffee (I'm married to one of those tea lovers).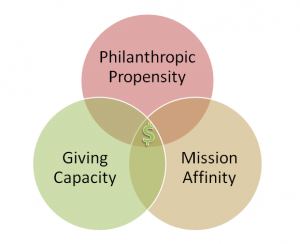 In philanthropic terms this means someone with money who is a giver to others can still not be into your mission. Another might love everything you do, but has no discretionary dollars to share.
By measuring each aspect of a person separately you can then bring those individual elements together, and when you do your best prospects will be easy to see.
This approach also ensures that people lacking current affinity, but having capacity and/or propensity, are also easy to find.