The IRS report on unrelated business income at colleges and universities reminded me of the potential perils of creating revenue from activities unrelated to your mission. I am not thinking about the tax consequences; I will leave that to the folks in Washington. I am pondering the consequences to the mission, and by association, fundraising.
This issue first came to my attention while I was working with a well-known university. We were discussing the giving patterns of affluent alums when a major gifts officer lamented about people who only made a gift in a year when they went on the alumni trip.
These were not ordinary trips. They were 10-14 day adventures combining exotic locations and encounters with famous people. Faculty who were experts in the areas being explored rounded out the experience.
Soon after this I was at a museum delivering their screening results and heard the same comment. Edu-cations had become all the rage and it certainly made sense for the arts to get in on the trend.
I began to ask questions about these programs and discovered they had become an industry onto themselves with less and less direct connection to the organization. If not for the school emblem and accompanying color scheme, the glossy brochures and splashy websites could have been easily mistaken for a Silversea Expedition.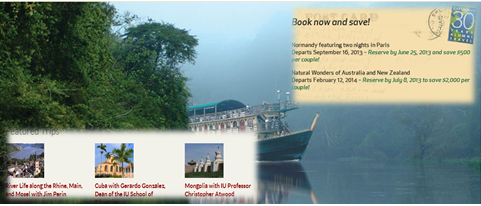 This is a great example of why being mission-centered is so critical to donor retention. In a donor-centered environment you could think the trips were part of thanking your donors. In a mission-centered world the trip would focus on the relevance to the mission, and always include an honest explanation of why support was needed every year whether a person went on the trip or not.
I can almost hear the cries of the marketing team saying if you mention the uncomfortable truths about the need for on-going support the response rate will plummet. What they won't share is the even more uncomfortable truth of how some donors actually feel paying for the trip is a gift in itself. That feeling fills cabins and hotel rooms, but it does not fill the classrooms with deserving students who can't afford tuition.
Unrelated business income is an important source of revenue, and there is nothing wrong with edu-cations, but there should never be a disconnection from the mission or you may face unexpected consequences.