The 2013 State of the Sector Survey, conducted by the Nonprofit Finance Fund, has a wealth of data regarding where nonprofits are today – and more importantly – where they are heading. Today I want to focus on the survey question pertaining, "Finance & Operations Actions in the Last or Next 12 Months," and in particular the 39% which answered yes to "Change the main ways in which you raise & spend money" in the last or next 12 months.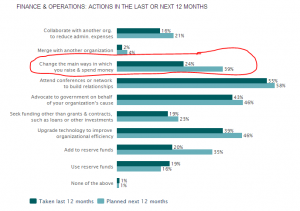 While 39% is impressive, what I found even more striking was the year-over-year change – 15%. Clearly nonprofit leaders are getting tired of doing the same things and being disappointed when they don't get different results.
What kinds of changes can we expect? A clue is the number one answer – "Attend conferences or network to build relationships." People are hungry for answers, but they are also looking for fresh ideas and perspectives (or at least 58% of them are). The 46% planning to upgrade technology is another indication of a growing feeling that the tried and true is tired and increasingly counter-productive.
Another intriguing indicator that maybe, just maybe, there is the will to make fundamental changes is the 21% wanting to collaborate with another organization. If these brave organizations start to see the benefits of collaboration then more will follow.
You may be saying, "I have heard the collaboration story before and know how it ends – with nothing happening." Before you give up hope, take a look at the answers from the Service side of the world: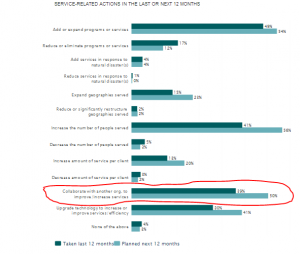 If 50% of the organizations are planning to collaborate to improve/increase services, then we almost have a majority seriously considering finding innovative ways to work together rather than ways to compete. The missions, and the donors, are the big winners as more people are served and donor dollars are more effectively utilized.
It is heartening to see organizations taking control of their destinies, and moving their own cheese rather than waiting to complain as it is done for them.
P.S. Hope to see some of the 58% at the Donor Retention Bootcamp this summer in Tampa.